References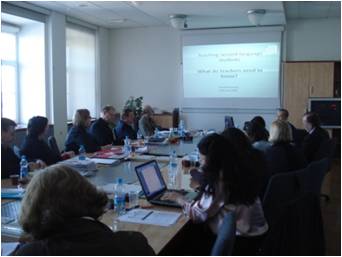 Below you shall find information on partners' work and experience.
Because of shortage of space there are only listed the main partners of the project. A number of colleagues and research associates are working alongside with them on the project´s tasks.

Coordination of the project:
Prof. Dr. Hans-Joachim Roth (Germany): Professor at the Faculty of Human Sciences, Institute for Comparative Educational Research and Social Sciences, University of Cologne, with a focus on multicultural education. Recent research projects have particularly focussed on questions of bilingual education for language minorities and the development of bilingualism in the context of education and schooling. 2000-2005 chairman of the Commission Intercultural Education in the German Association for Education (DGfE). Responsible for "language support based on individual language assessment" within the Federal-Länder pilot programme "FÖRMIG" which aims at fostering innovative approaches for immigrant pupils in the field of language education, assessment by transfer of good practice as well as by supplying data for future educational planning. He is responsible for the general project coordination. Curriculum Vitae (german) ; Publications (german).
Dr. Joana Duarte (Germany): Studied Modern Languages and Literature at the University of Lisbon and worked as a high school teacher in Portugal. In 2004, she completed her Master on Intercultural Education at the University of Hamburg and just completed her Ph.D. at the same institution with the title "Narrating in two Languages. A Comparative Study of a Bilingual Education Model and Submersion Classes in Germany and Portugal". She has cooperated in different national as well as international research projects and currently works as junior lecturer at the Institute for Comparative Educational Research and Social Sciences at the Faculty of Human Sciences of the University of Cologne.
Käthe von Bose (Germany): Studied Educational Sciences with a focus on Intercultural Education and Gender Studies at the University of Cologne. Since 2007 junior lecturer at the Institute for Comparative Educational Research and Social Sciences at the Faculty of Human Sciences of the University of Cologne and co-coordinator of a research project for adolescents with low educational opportunities which Prof. Dr. Kersten Reich and Prof. Dr. Hans-Joachim Roth realized in cooperation with the Bundeszentrale für politische Bildung (bpb).
Project´s partners:
Assoc. Prof. Dr. Tatyana Angelova (Bulgaria): Associate Professor of Methodology of Bulgarian Language Teaching. She teaches Bulgarian language in Department of Teaching of Methodology and does in-service training of Bulgarian language teachers. Tatyana Angelova is national research coordinator for Bulgaria in PIRLS' 2006 and member of the Board of Bulgarian Association for measurement and Assessment in Education. She is particularly interested in: Active methods of Learning in Teaching of Bulgarian Language; Informational and Communication Technologies in Teaching of Bulgarian Language; Teaching Bulgarian Language as a Native Language in the Perspective of Modernisation of Education in Bulgaria.
Assoc. Prof. Gergana Dacheva (Bulgaria)
Assoc. Prof. Yovka Tisheva (Bulgaria)

Christiane Bainski (Germany): Worked as a teacher and was member of the NRW Parliament, where she specialised on immigration issues, before she became director of the RAA (Regional Centres for Immigrant Youth and their families). She is closely working with the NRW government. She participated in the elaboration of the NRW "Integration Plan" and other initiatives. She is actively involved in the Federal-Länder pilot programme "FÖRMIG" which aims at fostering innovative approaches for immigrant pupils in the field of language education, assessment by transfer of good practice as well as by supplying data for future educational planning.
Franz Kaiser Trujillo (Germany)

Ass.-Prof. Charles Berg (Luxembourg): Founding member and currently - on behalf of the University of Luxembourg - governor of CESIJE (National Youth Research Institute). He is a member of the International Sociological Association (ISA); Research Committees 04 (Education) and 34 (Youth) and the European Sociological Association's (ESA) Youth and Generation network. He is Luxembourg's nominated member of the Council of Europe Youth Research Correspondents Network as well as the Luxembourg representative in the International Development Committee in Europe of the International Reading Association. He has contributed to the data analysis of the Second PIRLS study, and has recently written with Christiane Weis an Action Plan on theRestructuring of Language Teaching in Luxembourg.
Dr. Nico Kneip (Luxembourg): Worked three years as a teacher in primary schools, then studied psychology in Nancy (France), where he presented a doctoral dissertation in 1980 on the causal factors of school success. Began his professional career in 1975 as a psychologist in the Luxembourg Ministry of Education and its Child Guidance Service. Initiated in 1981 a pilot-project in early education (Research-Action Benjamin), which
leaded to the creation of "Benjamin-Clubs" in 1984 (0;8 - 4 yrs children,educators & parents) and the official "Éducation Précoce" (3-4 yrs) in 1998.As a part-time researcher and lecturer, he teached (1982-2007) at University of Nancy and the Luxembourg's high-school for teachers (now University)subjects concerning developmental and educational psychology of the young child. During the last years, a main concern was the development and experimentation of a curriculum in early language education for multi-linguistic groups.
Christiane Weis (Luxembourg):

Christiane Weis, sociologist, M.A. ULB (Brussels), has worked at the CESIJE as a youth researcher since 2002: projects on youth leisure time, language education policies and school climate. Her main research interests are: social inclusion, sociology of language and language education, sociology of education, interaction between research and policy making, migration and gender equality. She has, together with Charles Berg, published a report on language education in Luxembourg as well as an Action Plan concerning a restructuring of language education in Luxembourg. In this framework she has convened a multidisciplinary and a multiprofessional workshop on early language learning in multilingual contexts.
Patrice Joachim (Luxembourg):

Patrice Joachim, M.A. is an educationalist. She has been trained as a social worker and studied at the University of Trier, where she was awarded her diploma. She specialized in evaluation and took her Master degree at Saarbrucken University. She has worked since December 2002 at CESIJE, the national youth research center and has dedicated her work mainly to evaluation studies, both in the social and in the educational domain. She is fluent in German and French, has a fair knowledge of English, her mother tongue is Luxembourgish.
Romain Sahr (Luxembourg): After having passed the "Wissenschaftliche Prüfung (Staatsexamen) für das Lehramt an Gymnasien" at the University of Trier (Germany), Romain Sahr worked as a German and History teacher in different secondary schools in Luxembourg. Between 1987 and 2006 he contributed to the development of school-curricula and didactic material for primary and secondary schools. From 1993 to 2003 he worked as a researcher and teacher for German and Luxemburgish Didactics at the Institut Supérieur d'Etudes et de Recherches Pédagogiques (Walferdange, Luxembourg). He participated in several EU projects: European Picture Books Collection (1996-2000) and A European School Education Training (2002-2003).Since October 2003 he works as an enseignant chercheur at the University of Luxembourg (Faculté des Lettres, des Sciences Humaines, des Arts et des Sciences de l'Education) where he is involved in teacher training. He has published research articles concerning children's literature (children's literature in Luxemburgish and German, intercultural aspects of literature at school).
Dr. Peter Broeder (Netherlands): At Tilburg University he investigates from multidisciplinary perspectives language acquisition and language policy of the plurilingual individual in a multilingual society. He has broad experience in international project guidance and management. Recently large-scale language surveys are done in European cities and South African provinces which focus on citizenship education and language as a core value of ethnic identity. Currently he investigates the practice of intercultural language education. European Language Portfolios are implemented for primary school children and teachers, and for higher education students. Secondly, in the VALEUR-project, the status and position of at least 440 additional languages in 21 European States is specified.
Dr. Mia Stokmans (Netherlands): Associate Professor of Marketing and Marketing Research in the cultural domains at Tilburg University, department of language and cultural studies. Her current research topic regards consumer behavior in the arts in which a sociological, economic, and psychological perspective is combined. Curent insights are combined in a framework about audience development that is investigated in very different cultural domains (music, theater, museums, film, and reading). Regarding the cultural domain of leisure reading, a current study (in collaboration with Peter Broeder) focuses on differences and similarities in antecedents of reading frequency between Chinese, South-African and Dutch secondary education pupils. She has recently published an effect-study on the effectiveness of a reading program catering at secondary education (Bazar).
Prof. Dr. Maria Alfredo Moreira (Portugal): Assistant Professor in ELT Methodology and Pedagogical Supervision. M.A. (1996) in Pedagogical Supervision at the University of Aveiro and Ph.D. (2004) in Education, ELT Methodology at the University of Minho (UM). Research interests and publications in Pedagogy at the University, Action Research and Supervision in Teacher Development and Pedagogy for Autonomy in Language Learning. Deputy Director of the Methodology Department (2006); President of the Comission for Coordinating Teaching Practice at the UM (2005-09); Scientific consultant and teacher trainer for Lingua-Socrates and Socrates-Comenius In-Service Education Course "Learner Autonomy and the Role of the Teacher" (2000-2002). Teacher trainer in the "Online Teaching Course for School Leaders" (UNICEF/ IEP, RFP/MALA/2007/009), responsible for the course on Supervision and Monitoring. Currently working on curriculum development for 3rd cycle Basic Education Curriculum in East Timor (English Syllabi) (UNICEF - Ref. Code: RW_7L42KG-67].
Prof. Dr. Orlando Grossegesse (Portugal):

Professor in German Studies. Member of UM teaching staff since 1990, creating the German Department (1990-93); Pres. of the Undergraduate Program in Arts & Humanities (ILCH) (2000-02); Coord. reform of the Undergraduate Courses in Languages and Literatures (2002-04); Head of the German Department and Vice-President of the Institute of Arts and Humanities (ILCH) at the UM (since 2004); Coord. reform of the Undergraduate Courses according to the Bologna system at ILCH and steering group member of the "Bologna task force" at the UM (2005-06); creation of the "UM-Passport of Intercultural Communicative Competence"; Org. "Regional European Conference for Southern Europe" within the network for decentralised and centralised dissemination of TNP3 results and outcomes (TNP3 – D) (FU Berlin, 2006-07); currently participating in the LANQUA (Univ. Southampton) and MOLAN (FU Berlin) network projects.



Prof. Dr. Cristina Flores (Portugal): Cristina Maria Moreira Flores Professor of German Linguistics at the German Department of the University of Minho/Braga - Portugal. PhD concluded in May 2008, with the dissertation entitled: "The syntactic competence of Portuguese-German Returnees. A study on Language Attrition". Principal Investigator of the research project "Portuguese-German Bilingualism in European Context", funded by FCT (Portuguese Research Foundation). Aim: constitute a corpus of oral interviews involving second-generation returnees, i.e., second-generation migrants, who grew up in Germany/Switzerland and moved to Portugal during childhood / adolescence. Member of UM teaching staff since 1999.
Prof. Dr. Jarmo Lainio (Sweden): Main areas of specialisation and research work are sociolinguistics, language variation, bilingual studies/education, sociology of language, minority languages, language policy, educational linguistics. He has been senior lecturer, Centre for Research on Bilingualism, Stockholm Univ 1998-2004, Professor of Finnish, Mälardalen Univ 2003-, Senior Researcher at the National Science Council 2001-2006. Visiting Research Fellow, Univ of Ottawa, Canada 1991-1992, Department of Linguistics. Other significant tasks have been: board member of the National PhD program on Educational Studies, especially didactics, since 2007; Swedish member of the Committee of Experts, Council of Europe, for the European Charter for Regional or Minority Languages, since 2005.
Dr. Birgitta Norberg Brorsson (Sweden): Norberg Brorsson's main areas of specialisation are writing, especially in schools, language didactics and sociology of language. She is a senior lecturer of Swedish at the Academy of Education, Culture and Communication at Mälardalen University 2007–, 1999–2006 lecturer of Swedish. She is the leader of a course for University teachers in writing and guiding and has also developed and lectured at several in-service training courses for teachers. She has taken part in national as well as international projects and conferences. 1992–1998 she was the headteacher of an Upper Secondary school with 1100 pupils of about 60 different nationalities. Norberg Brorsson has published a monograph and a number of academic and popular articles. In July 2009 she published a book on writing: The Power of Writing. On the democratic writing in the school subject Swedish.
Dr. Renate Walder (Sweden): Main areas of specialisation are Swedish grammar, cognitive semantics, Swedish as a second language, bilingualism. She is a senior lecturer of Swedish at the School of Education, Culture and Communication at Mälardalen University 2006- . She works as a teacher trainer at Mälardalen University and has developed in-service training courses with special focus on linguistically diverse classrooms.
Mirko Zorman (Slovenia): Has a BA degree in languages and MSc in social management. Currently he is head of international cooperation group in the National Education Institute of the Republic of Slovenia. His prior career includes teaching in primary and secondary school and leading primary and secondary school. He was head of a regional office of the Institute, had a two year experience in the government as state secretary responsible for secondary schools and adult education and assumed the present position after his involvement with the Presidency of the Council of EU in 2008. His main fields of interest are quality assurance, school development and through living in an ethnically mixed area also dealing with cultural diversity.
Dragica Motik (Slovenia) entered her career in education as a teacher of history and geography and later spent several years teaching Slovene as the language of origin to students in Germany. In 1988 she assumed the role of consultant for supplementary teaching of Slovene to students of Slovene origin in Western Europe as well as on other continents – mainly in the USA, Canada, Argentina nd Australia. She first got involved with providing support to teachers and schools in dealing with the issues connected with integration of students with migrant background in the early nineties, when Slovenia became a destination country for refugees from the Balkan countries in the state of war. Her approach is based on encouraging intercultural dialogue and experience gained in 18 years of organizing teacher exchange with foreign institutions, notably from Switzerland and in Germany and work in EU projects on school-home cooperation. She also is author of a number of articles published in Slovene magazines specialized in education and co-author of two manuals on intercultural education.

Prof. Dr. Constant Leung (United Kingdom)

: Professor in Educational Linguistics. Deputy Head of Department, Department of Education & Professional Studies. Director of MA English Language Teaching & Applied Linguistics and Academic Language & Literacy Development programmes. Current Chair of Research Standing Committee, TESOL (USA). Associate Editor, Language Assessment Quarterly. Current editorial board memberships: Language & Education, Prospect, Reflections in English Language Teaching. He has published widely in four areas: second/additional language pedagogy and curriculum development, language assessment, language policy in ethnolinguistically diverse societies, and language teacher professionalism.
Prof. Dr. Bernard Mohan (United Kingdom): Emeritus Professor, Language and Literacy Education, University of British Columbia and Research Fellow at King's College London. Former Chair, North American Systemic Functional Linguistics Association, and current member of the advisory board, International Consortium on Task-Based Language Teaching. My publications and research interests are in five main areas: functional analysis of language and social practice, the integration of language and content learning, language and content assessment, computers and language learning, and multimodal representations across languages and cultures. With my colleagues Constant Leung, Marilyn Low, and Tammy Slater, I have recently published a book section on language and content assessment.
Prof. Dr. David Jenkins (United Kingdom, external evaluator)
Associated partners:
Anja Brandenburger (Germany)
This project has been funded with support from the European Commission. This website reflects the views only of the author, and the Commission cannot be held responsible for any use which may be made of the information contained therein.